Guangzhou Light Industry Group Double Fish Company, as the "main chain owner" enterprise of Guangzhou sports and fitness industry, is one of the largest manufacturers of sports equipment and equipment in China. Top 10 Enterprises in the Equipment Industry, Advanced Enterprises with Outstanding Contributions in China's Cultural, Educational and Sporting Goods Industry (2017-2022), National Quality Leading Brand in the Sporting Goods Industry and other honorary titles. It is the first batch of national sports industry demonstration units evaluated by the State Sports General Administration. Entering the "14th Five-Year Plan", Double Fish is committed to becoming an internationally renowned sports brand, transforming into business areas such as the introduction of international events, operation of cultural and sports venues, and national fitness paths, and building a diversified sports industry ecosystem. Operating income from January to November 2022 A year-on-year increase of 20%.

"Intelligent Manufacturing" leads

Create an innovation-driven sports industry entity

Cultivate strong research and development momentum
Build a Double Fish technology center and continuously enhance independent research and development capabilities. From January to November 2022, R&D investment will increase by 13% year-on-year, with a total of 75 effective patents. The self-developed Double Fish high-friction and high-stability table tennis table will be recognized as a high-tech product in Guangdong Province in 2021; emphasizing the transformation of scientific and technological achievements on product innovation and operating efficiency. Leading role, the economic benefits in 2021 will exceed R&D investment by 18 times. Gather innovative resources, cooperate with Sun Yat-sen University and other colleges and universities in 2022 for 6 industry-university-research projects, carry out 3 special training systems, and train 32 engineers. The Technology Center has successively won the titles of Provincial Enterprise Technology Center, Provincial Industrial Design Center, Guangdong Worker Pioneer, Municipal Engineering Center, and Municipal Model Worker Innovation Studio.
Inject intelligent manufacturing kinetic energy

Promote intelligent, green, lean, and high-end production and operation, and introduce internationally leading table tennis tabletop UV paint roll coating production line, table tennis tabletop intelligent three-dimensional storage, table tennis board automatic production robots and other production equipment, procurement, production, ERP system management for the entire process of the warehouse supply chain system, information code system management for the entire series of table tennis, badminton, and three major ball products, and investment in the environmental protection of the workshop production environment and dust odor emissions. At present, the completion rate of the production plan of the enterprise has increased from 50% to 96%, and the production efficiency has increased by 60%.

Advancing Management Digital Transformation

Build a full-process digital management system for business data, management norms, and risk prevention and control. Accumulatively formulate 23 information-based and digital-related system specifications, 56 standardized work processes, and 112 standard templates, centering on ERP (Enterprise Resource Management System) and WMS (warehousing management system), CRM (sales customer management module), SRM (purchasing supplier management module) and other information platforms have been built to promote smart office and smart warehousing and logistics systems, with business electronic coverage reaching 80%.

"Quality" leading

Establish an international benchmark for advanced sports products

Products lead international standards

Leading and participating in the formulation of 63 national standards, industry standards, and enterprise standards for sports equipment. As the team leader, he led the drafting of the first domestic table tennis ball machine standard. Maintaining the international advanced product quality with leading production level in the same industry, Double Fish V40+ Samsung dribble ball exceeds the ITTF (International Table Tennis Federation) international competition ball standard in terms of weight, roundness, hardness and elasticity, and has become the designated ball for the World Cup. The self-developed Double Fish Super 5th generation ball machine won the German IF Design Award from nearly 11,000 entries from 23 countries and regions around the world. It is the only enterprise in the domestic table tennis equipment industry that has won this honor.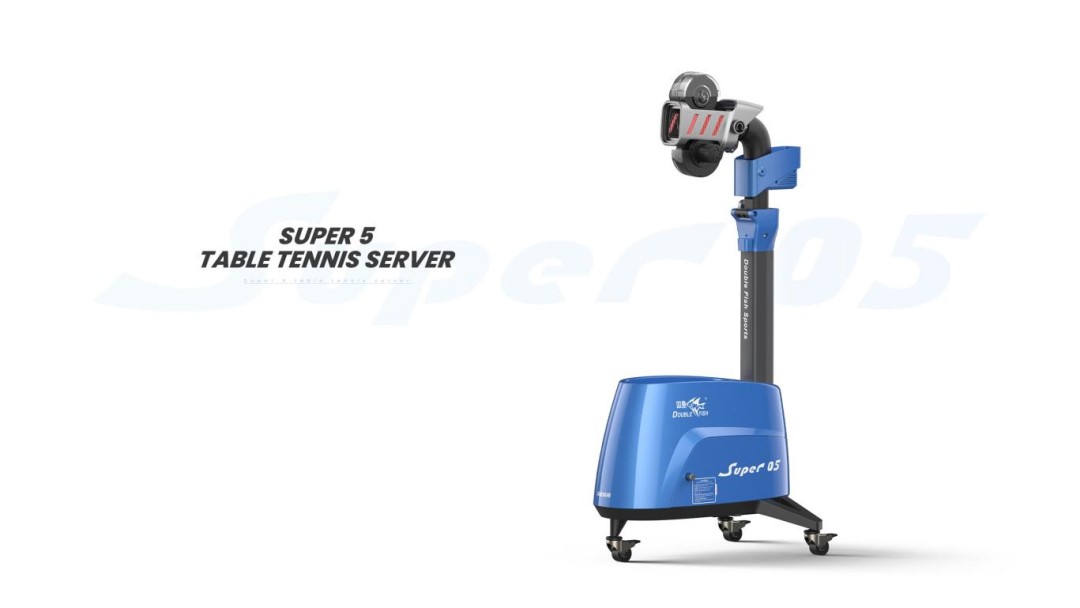 Double Fish Super 5th Generation Ball Machine won the German iF Design Award

Serving international high-end events

It has participated in the 2008 Beijing Olympic Games, the 2010 Guangzhou Asian Games, the 2011 Shenzhen Universiade, several World Table Tennis Championships, the Team World Cup Table Tennis Competition, WTT Middle East, Singapore, Macau series events, and the 14th National Games table tennis Projects and other international and domestic high-end competitions provide competition equipment. In 2022, it will become a global partner of WTT (World Table Tennis Federation), successively provide game balls and build world-class table tennis arenas for the 2022-2023 World Table Tennis Championships and Grand Slam events, and launch special balls for events and supporting events Custom table.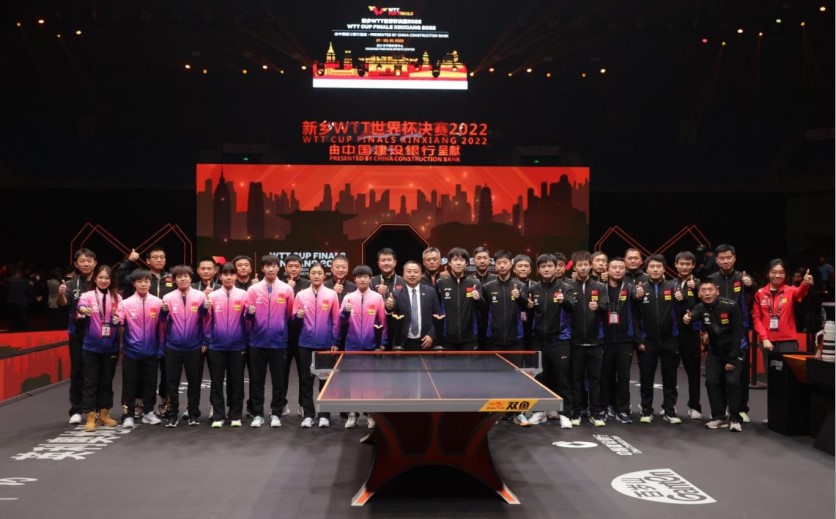 Double Fish provides equipment and equipment support for a number of WTT events

Promote the development of sports

Relying on table tennis and the three major ball products, we will strengthen research and development around the youth group and promote the integration of sports and education. Co-construct sports venues in the central area of Guangfo area, and develop special children's rackets for children's training to help professional youth training. Provided test balls for the Guangzhou Sports High School Entrance Examination, cooperated with the Liwan Experimental School of the Chinese Academy of Educational Sciences to build a Double Fish Sports Campus table tennis activity base, cooperated with the Guangdong Provincial Basketball Association, Guangdong Provincial Sports Federation, etc., for a number of campus leagues, The tournament provides sponsorship and match balls.

Double Fish Sponsors the 1st Guangdong Youth Basketball League in 2022

layout optimization

Create an international sports industry brand

Create a new track for "Double Fish Sports"

Promote "Double Fish Ping Pong" to "Double Fish Sports", and create a matrix of multiple sports and fitness products. From 2022 to the present, develop 5 new products of home fitness equipment, 7 new products of sports apparel, 46 new products of the three major ball series, carry out the overall development of yoga and swimming equipment series, and sell new products from January to November An increase of 8% year-on-year. Actively promote sports culture, co-brand fashion brands to launch sporting goods, sports cultural and creative products, and develop peripheral products with the cartoon image of brand spokesperson Liu Shiwen as the main element.





Double Fish launched HEA joint products and Liu Shiwen peripheral products

Layout new domestic and international markets
Focus on new retail in the domestic market, coordinate social consumption platforms such as Pinduoduo and Douyin, and operate simultaneously with social media such as live broadcasts, WeChat applets, official accounts, etc., and create a closed loop of private domain content marketing management. E-commerce from January to November 2022 Sales increased by 40% year-on-year. In 2021, the sales volume of billiard tables and the sales volume of ball machines will rank first in the entire network. Expand the Southeast Asian market by holding folk events and exhibitions, open sales channels on multiple mainstream cross-border e-commerce platforms such as Alibaba and Amazon, open up new markets such as Jordan, Egypt, Canada, Turkey, and Iran, and open up the "cloud" territory of global business layout. From January to November 2022, exports will increase by 9% year-on-year.

Build a sports industry ecosystem

Create a multi-level, diversified and personalized "sports +" comprehensive service business. In 2022, it will sign strategic cooperation agreements with Guangzhou Football Team, Zhongyun Sports, Yunnan Yunjian, Yunnan Plateau and other enterprises to fully participate in businesses such as national fitness, sports mall, events, sports training, etc., and promote the role of "chain owner", and jointly Introduce international and domestic high-end competitions, undertake high-level sports culture exhibitions, and drive the development of the sports industry in the Greater Bay Area. Build the Double Fish Innovation Center to create an innovative display platform integrating sports product display experience, history exhibition, and technology research and development. Start the Double Fish T.I.T Digital Culture and Sports Industrial Park project, and plan to introduce sports-related extension industries and commercial complexes with complex attributes to help build a famous sports city in Guangzhou.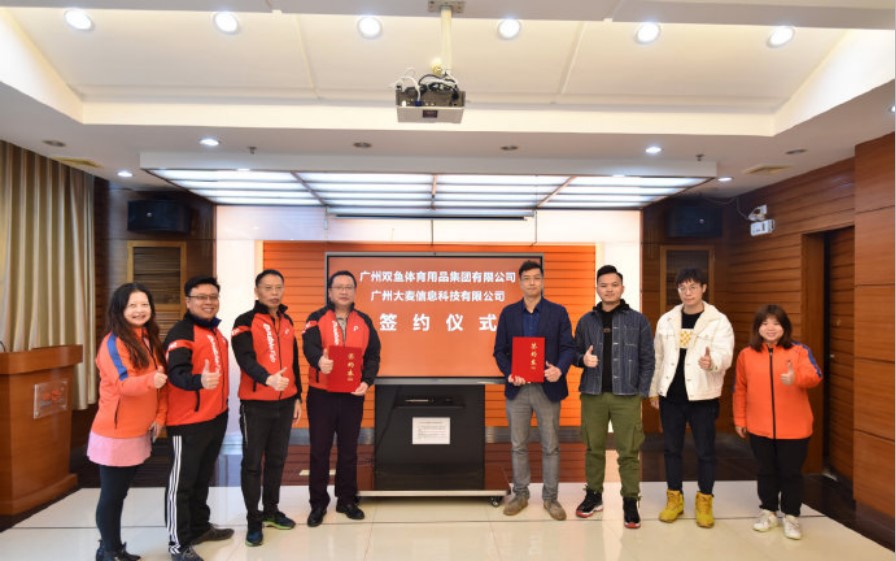 Double Fish and Damai signed a contract for cooperation